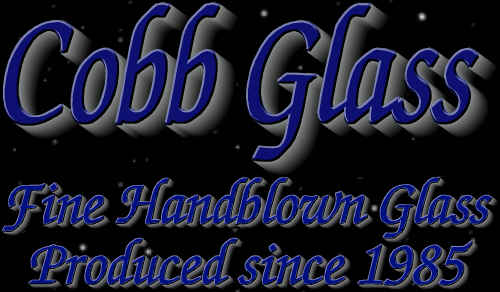 Bruce Cobb works alone in his small studio in New Hampshire.

All photography on this site is by

Evelyn D. Roberts, unless noted as otherwise.

Photography by Evelyn D Roberts

Web pages designed and maintained

by   Evelyn D Roberts  ©

Hover your cursor over the "Cobb Glass" headline to change the image.

Cobb Glass, handblown glass made in a one man studio located in Pittsfield, New Hampshire.

Cobb Glass, Bruce Cobb; glassblower; glass blower; New Hampshire artist; handblown glass; hand blown glass; craftsman; League of NH Craftsmen; lily pad design, lily pad, Cobalt, Pale Blue, Ruby red, Amethyst, Clear; Teal, Pale Teal, Multicolored, vases, Lamps, Christmas balls, bowls, goblets, tumblers; glasses; drinking glasses; sugar & creamers, decanters, candlesticks, glass birds, glass art; affordable, gifts, fine, elegant, high quality, pictures, Bruce Cobb; fiddle; Music events