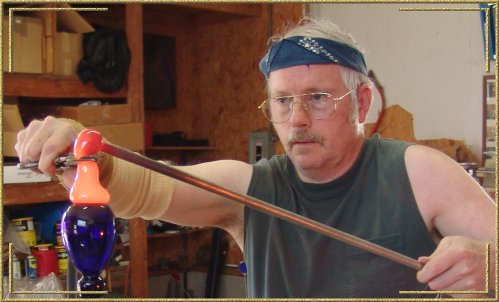 Photography on this page by Evelyn

Yep...that's how it's done!!!

One puff at a time.

Above shows Bruce adding a blob of glass to form the 'lily pad' design.  This design is based on a 19th Century American technique.   Put your cursor on the image to see him "pulling" the added molten glass to form the design.

He has just reheated a piece so that he can 'spin' it out to make a plate.  As you can see, it still looks like a bowl.  Hover your cursor over the image...from looking like a bowl to looking more like a plate happens very fast!

About one or two seconds later, it definitely looks more like a plate.

Click on the video below to watch Bruce making a lily pad plate.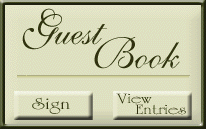 Now, he is making the opening wider. 

Please allow time for the images to load...as there are special effects on this page.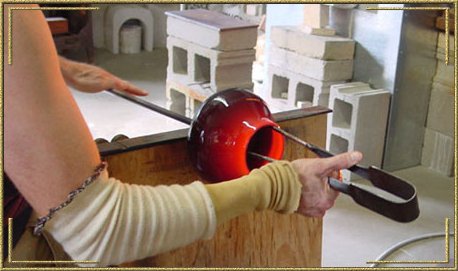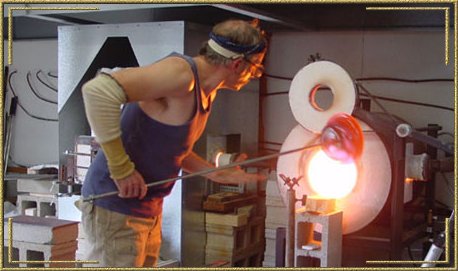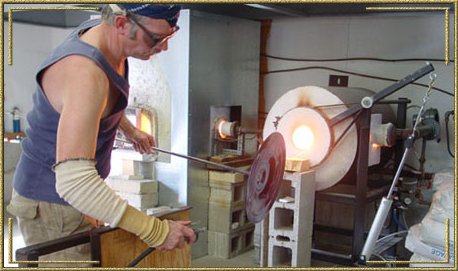 All photography on this site is by

Evelyn D. Roberts, unless noted as otherwise.

Photography by Evelyn D Roberts

Web pages designed and maintained

by   Evelyn D Roberts  ©

NOW AT...

Bruce at

work with 

the glass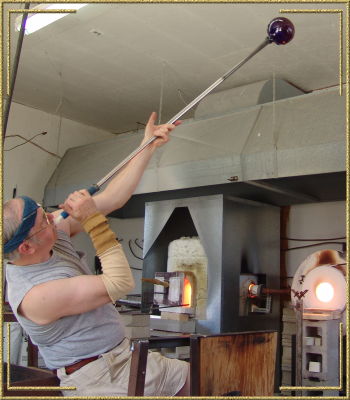 Cobb Glass, handblown glass made in a one man studio located in Pittsfield, New Hampshire.  Pictures showing a glassblower at work. 

Cobb Glass, Bruce Cobb; glassblower; glass blower; New Hampshire artist; handblown glass; hand blown glass; craftsman; League of NH Craftsmen; lily pad design, lily pad, Cobalt, Pale Blue, Ruby red, Amethyst, Clear; Teal, Pale Teal, Multicolored, vases, Lamps, Christmas balls, bowls, goblets, tumblers; glasses; drinking glasses; sugar & creamers, decanters, candlesticks, glass birds, glass art; affordable, gifts, fine, elegant, high quality, pictures, Bruce Cobb; fiddle; Music events