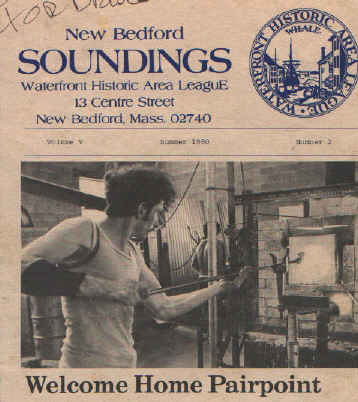 In 1981, I moved to New Hampshire to work as an assistant to Richard Harkness, a glassblower in Epsom.  It was there that I applied the production-oriented techniques learned at Pairpoint to a studio situation, with the freedom to work with many different styles and a wide range of colors.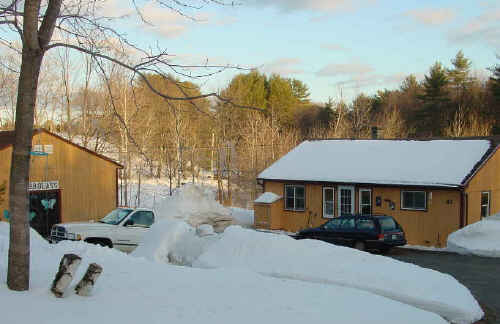 I began my training in glassblowing in 1976, as an apprentice at the Pairpoint Glass Company in Sagamore, Massachusetts.   The work fascinated me, and I advanced rapidly through the stages of apprenticeship.   In 1980, Pairpoint opened a second plant in New Bedford and the photo below shows me reheating a piece in the "glory hole" at the new plant.

In 1983, I took a job at a printing company, while working on building the glassblowing equipment I needed, as time and money permitted.  Finally, in 1985 I began operation of my own studio in downtown Pittsfield, NH, becoming a juried member of the League of New Hampshire Craftsmen shortly thereafter.

Much of my work is sold through the League of NH Craftsmen shops, and for ten years (1986 - 1995) I had a booth at the League's prestigious Annual Craftsmens' Fair at Mount Sunapee (as shown below).  Several other fine craft stores in New Hampshire also carry my work, as well as some out of state.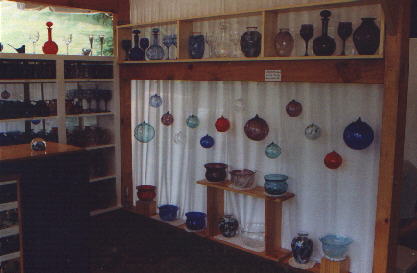 I work without a helper, and do not use molds.  Each piece therefore is distinctly my own, and is unique.  I use a technique based on the (19th century American) Lily Pad Design for much of my work.  My lily Pads have a cleaner, more contemporary look, however, and are often referred to as 'waves'.  The Lily Pads, besides being decorative, also perform as grippers, making it less likely for an item to slip out of one's hand.  They also provide extra sturdiness to the work.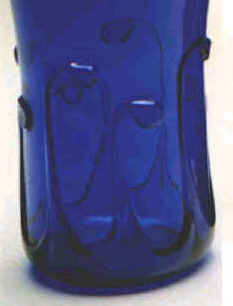 An example of the Lily Pad Design is shown on the left.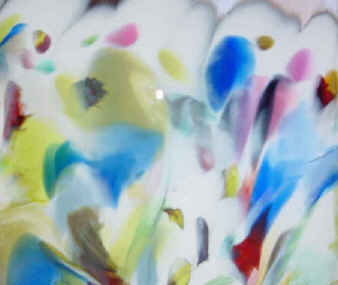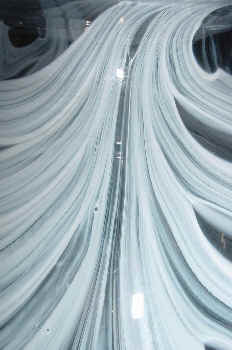 Further designs are the Multicolored, which uses mixtures of random colored glass bits, with a clear glass overlay...

The Pulled Thread Vase, employing white loopings with a clear glass overlay...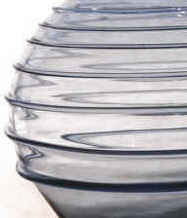 The Spiral Vase, which has a same-color trailing of glass spiraling down the surface of the vase...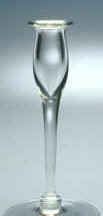 Also the Plain Design, using the simple beauty of the glass without added decoration.

Each piece is signed by the artist (excluding the Christmas balls).

My studio and home, in Pittsfield, New Hampshire, are shown below.

copy of New Bedford SOUNDINGS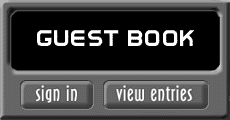 This site was first published on February 18, 2002

and you are visitor...

Photography on this page by Evelyn D. Roberts, except as noted

All photography on this site is by

Evelyn D. Roberts, unless noted as otherwise.

Photography by Evelyn D Roberts

Web pages designed and maintained

by   Evelyn D Roberts  ©


Cobb Glass, handblown glass made in a one man studio located in Pittsfield, New Hampshire.

Cobb Glass, Bruce Cobb; glassblower; glass blower; New Hampshire artist; handblown glass; hand blown glass; craftsman; League of NH Craftsmen; lily pad design, lily pad, Cobalt, Pale Blue, Ruby red, Amethyst, Clear; Teal, Pale Teal, Multicolored, vases, Lamps, Christmas balls, bowls, goblets, tumblers; glasses; drinking glasses; sugar & creamers, decanters, candlesticks, glass birds, glass art; affordable, gifts, fine, elegant, high quality, pictures, Bruce Cobb; fiddle; Music events